OK, an upfront disclaimer, this article is not about "How to deploy remote desktop services in Azure" it's about grabbing the reader by the lapels, giving them a good shake, and asking "Why would you even consider doing this?"
As a business we provide cloud hosted Windows desktops and applications using Remote Desktop Services (RDS), specifically aimed at small businesses from 1 user up to 75 users or more, and have been doing so since long before Azure was even a thing.  Hosted remote desktops, sometimes called Hosted Desktops, are designed to enable companies to run a Windows desktop environment for their software – particularly software that has shared data or databases – in the cloud, allowing users to access it from anywhere and on any device including Macs, tablets and phones.  They can run a full desktop or simply a remote application launched from their Start Menu.
In recent years some customers have asked us why they should use us and not set up their own remote desktop services in Microsoft Azure or use Azure Virtual Desktops to share applications or the new Windows 365 cloud PCs, which is another of Microsoft products aimed at the small business market. Our response has always been the same, you would use us because it's cheaper, it's simpler, you don't need any IT skills, everything is fully supported by us, you have total surety of monthly costs, you get a great user experience and an excellent service over all. However, sometimes it's nice to be able to prove this.
How expensive is it to run remote desktop services in Azure?
We were contacted recently by a customer who wanted to cost effectively run an application called Clik Service "in the Cloud".  Clik Service is aimed at companies like heating engineers who need to schedule service and repair type jobs for engineers and manage customers, raise invoices etc.  It is a feature rich Windows desktop application that runs with Microsoft SQL Server. We gave them a quote to host Clik Service on hosted desktops along with Office 365 and were pleased when they signed up the next day.   To provide some detail, they had 3 users and the total cost came to £174 a month with a one-off setup fee of £125.
The customer then, out of the blue, forwarded a quote they had from their IT managed service provider to host Clik Service using RDS in Azure.  I literally fell off my chair when I read it. The details of the quote are included below but they were quoting over £427 a month (and as it's Azure that could vary month to month) and, wait for it, £5,400 up front costs to set up Azure for Remote Desktop Services to host Clik Service.
The customer was rightly concerned that because of the difference in price that perhaps they weren't getting what they needed from us, but of course nothing could be further from the truth. Let's explain why. In the picture below are the upfront costs as quoted by the IT company, we've just rubbed out the customer name for their privacy: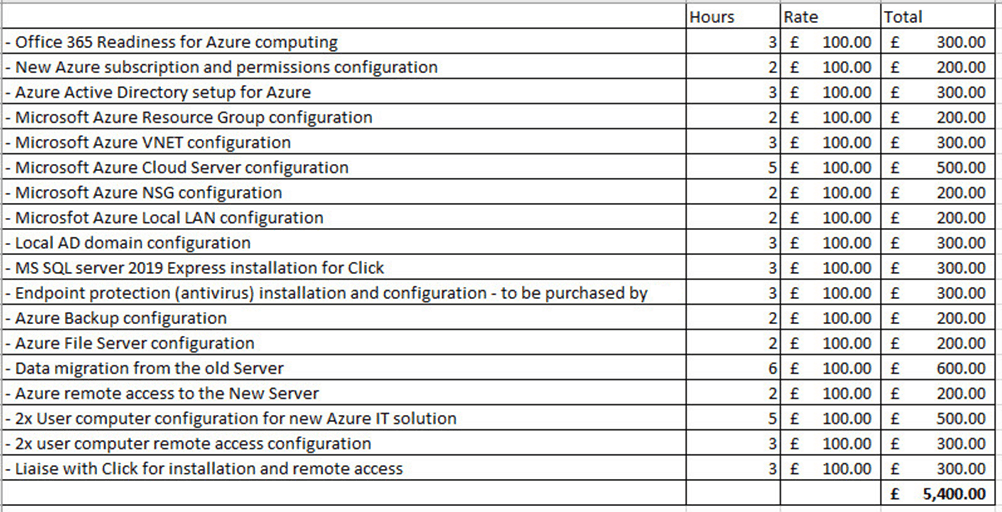 OK, some of the costs here are clearly excessive, 6 hours effort to migrate a < 10GB database – really? But even at half this cost it's still several thousand pounds too much, and here's why…
With a hosted remote desktop service most of these tasks are already done, customers are benefitting from the economies of scale of a secure public cloud platform where all these infrastructure components are already in place. We don't need to set up VNET or Active Directory, or Local AD domain, or file servers. As for anything unique such as installing SQL Express, well it all comes as part of the £125 setup fee, regardless of how long it takes, and no, installing SQL Express doesn't take 3 hours of effort, more like 10 minutes, and then some time while it installs and you get on with something else.
How do you calculate monthly costs in Azure?
The other question will be the monthly rental costs for the Azure RDS deployment.  Here's the costs as quoted by the IT company for each Azure VM:

First point, note the word "Estimate", that's right, with Azure services you never really know what you will pay until you get the bill.  I read a quote recently in an article about Azure Windows Virtual Desktops (WVD) saying it's "Akin to tying your IT budget to a boat anchor and throwing it overboard into a bottomless pit". With a hosted remote desktop service, you always know what you're going to pay.
Second point, in this quoted scenario with Azure the customer would need to rent 3 virtual machines to cover all the different remote desktop services roles. On a hosted desktop you just rent the one Windows server, everything else is included, along with multiple spares to provide a load balanced and resilient architecture.  As an aside, we would also argue that these servers are over spec'd. 3 users running Clik Service, plus the operating system, IIS for Clik Remote, and 1GB for SQL Express (as that's all it can use) you'd expect to need no more than 6GB RAM and 2 vCPU cores, so a 16GB 4 vCPU server is probably overkill.
Does Azure remote desktops include support?
So, here the thing, with Azure you get very basic support thrown in.  If you want anything useful add another £25 a month to the price quoted above.  Of course, as a customer who's job it is to service heating systems, you are unlikely to know where to even start if your Azure virtual desktop goes offline or stops working correctly.  So, you then have to go to your £100 an hour IT provider to ask them to fix things, or pay for them to speak to Microsoft.  If it takes them 3 hours to install anti-virus on 3 servers then you'd better start dusting off your wallet if you need to ask them for support.
With a hosted desktop service the support costs are, well, nothing, it's all included in the price.  If your hosted desktop stops working you simply call us (24/7) and we fix it, for free.
Why Azure doesn't stack up for small businesses
When reading these quotes we were frankly astounded, colleagues were calling it insane that anyone would pay that amount, but clearly, they sometimes do because their IT provider isn't giving them all the options, and the customer is relying on them to give them the best advice, so the provider should really be ashamed.  Let's recap, to host Clik service in Azure they were being quoted £5,400 upfront costs and £427.70 a month estimated costs for Azure rental, on top of this they would be paying either a support contract or ad-hoc support with their IT provider.
With a hosted remote desktop from Your Office Anywhere they would pay £125 upfront costs and £174 a month to run these apps, and always the same every month. Support is included in the price.
For transparency neither our quote not the MSPs quote include the customer's Microsoft 365 subscription.
If you are looking for a way of hosting Windows applications in the cloud by all means get a quote for hosting it in Azure and then get in touch with Your Office Anywhere for a heart-warming pleasant surprise. Simply complete the form below or call 01282 500318