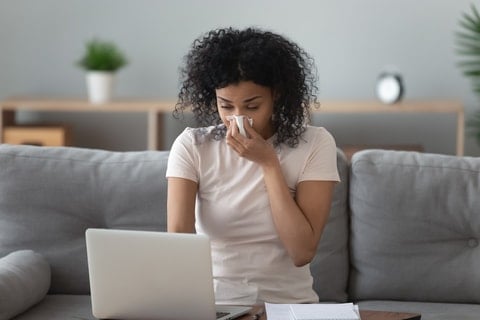 We've just had our first call from a business conducting contingency planning in case of a severe UK outbreak of Coronavirus (Covid-19). The customer wanted advice on whether and how we could help his team run their business applications from home if they had to self-isolate or the company wanted to temporarily shut their office.
The good news is, working from home can be simple to do, and in this age of cloud computing and Voice over IP telephony it is something easily achievable by even the smallest businesses.
How can I run my business software from home?
Many business applications are already running on line and staff working from home can access these on their home PCs just as easily as in the office. Some companies are already using services like Office 365 (now called Microsoft 365) to share their Office documents in the cloud and get to their email on phones, browsers and tablets.
What if my business software isn't online or in the cloud?
This is where we can help. The customer that contacted us earlier, planning for a Coronavirus pandemic had a database application that couldn't be run through a browser. If he wanted his staff to work from home because of Coronavirus then he needed this application to work online, "in the cloud".
We provide a solution called a hosted remote desktop service, sometimes just called hosted desktop. This is a bit of a simplification but what it does mean is that people working from home can log on to their remote desktop and run the same applications as their colleagues working in the office or who may also be working from home. The application they are all running is no longer located in their office, but in our UK data centre on their hosted remote desktop server, along with their documents and other files.
We can host any application that would normally run on your Windows PC in the office. Great examples might be Sage 50 Accounts, Sage 200 or Sage Payroll, Access databases, Microsoft Office, any bespoke Windows application, even if it has a complicated infrastructure set up we can replicate this in the data centre. It's all supported, backed up and maintained by our technical team as part of the service.
What if my staff don't have Windows PCs?
Not a problem, lots of people just work with Macs or iPads and Android Tablets, and the great news is that a hosted remote desktop will work on all of these. Working on a PC or Mac will generally provide a richer experience than tablets, but in an emergency you work with what you have, right?
How do I find out how to work from home
Simple, give us a call. We can talk through what your requirements are and advise on the most suitable solution for your business applications. If something as simple as Microsoft 365 or Office 365 is you're your business needs then we can usually get you up and running the same day.
Moving to a hosted desktop service normally takes about a week from start to finish so take this into account during your planning. We're building up stocks of servers ready to provide to customers who need to act at short notice, so where we need to move quickly to help businesses we will do so.
Please give us a call on 01282 500318 or complete the short form below.