15 Must-Have Tools & Software for Work from Home Employees
If you or your team are new to working from home, or needing to work remotely, you may be wondering what you can do to make that transition easier. In particular you may not realise what tools are available for the remote workers and their colleagues to make working life as easy and productive as possible. Luckily the world has spent the last couple of years finding the best remote work tools and we've trawled the websites and forums to see what's available for the new home worker.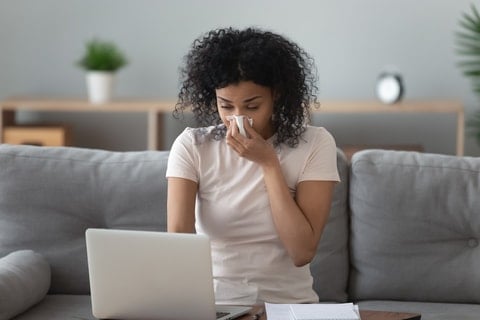 1 – Accessibility
OK, not so much a tool in itself, more a framework for tools for home employees. Tools and software need to be accessible to anyone who needs to work from home. They need to be affordable, intuitive and easy to use. They also need to be internet connected, generally cloud-based Software as a service, work for different time zones.  Most importantly they need to be effective for the function for which they were intended and adopted by everyone in the business.
2 – Internet Access
There's a good reason this one comes first.  Everything else nowadays depends on reliable internet access. It doesn't always have to be super-fast fibre, just something that's reliable. For the most part your standard broadband service connected to your landline is more than sufficient. Where you have 4G or 5G signal then having a fall-back option is useful.
Use your mobile as a Wi-Fi hotspot – probably most handy when you have a temporary outage on your broadband, as well as when you're out and about. Check your phone providers data plan in case this gets expensive.  Where you can keep your phone plugged in to the charger as this can drain your battery fairly quickly.
Hotspot Devices – There are a number of dedicated 4G and 5G hotspot devices that connect to the mobile network using a SIM card and then act as a Wi-Fi hot spot.  Brands include MiFi and Karma, but mobile networks also do their own Wi-Fi hot spot devices.
3 – Hosted Desktops, Desktop as a Service (DaaS), Virtual Desktops
You are going to read, in the sections below, about lots of online tools for remote teams, stuff that runs in your web browser, or apps for your phone/tablet. But, what about the serious line of business software applications, the stuff that doesn't run in a browser but gets installed on your desktop PC. This is where hosted desktops come in.
Hosted desktops give you and the rest of your colleagues a cloud PC to run all your desktop applications. Applications that share databases or use shared drives full of all your company documents could be hard to get to for those who have to work remotely, or even if you want to share apps in different branches or even different countries and time zones.  With a hosted desktop all your software, databases, and files are there at your fingertips and you can access them from any internet connected device, PC, Mac, iOS or Android.
4 – Online "office" applications
Writing documents, preparing presentations, sending emails, and analysing data are activities that many of us still spend the majority of our time doing.   Thankfully office applications have been available "online" for many years. There is a combination of desktop office software, those installed on your computer or laptop; web based office apps that run in a browser like Chrome, Edge, Firefox or Safari; and tablet/phone variations that run on iOS and Android.
The market leader is, and will probably remain, Microsoft Office and the Microsoft 365 aka (Office 365) suite of tools and services.   Features include running web based or online versions of Office applications and saving the documents to OneDrive or SharePoint to share with colleagues; desktop installed versions with the full range of features that will save documents on the local device and then synchronise with OneDrive or SharePoint; or a halfway house of iOS or Android apps that have the features comparable with the web based versions but installed on a phone or tablet.
Google Workspace (formerly G-Suite) provides a completely online or app based equivalent to Office that has a number of extra services included in the same way that Microsoft 365 has, services like Google Drive, and at comparable and often cheaper prices.  There are options to download some of the apps to run on Windows devices and will work offline if internet access isn't always possible.
Where you need your Office applications to interact with installed line of business applications like accounting, CRM, Payroll applications but also want the flexibility of working "in the cloud" for your remote workers, then a Hosted Desktop with both Office and your LOB applications installed will solve the problem.
5 – Cloud Storage
Hand in hand with the office applications is the need for somewhere to store the documents you create that can be shared with your colleagues in your remote team.   Cloud storage is probably the cloud service that has been around the longest with services like Dropbox becoming household names.   Google Drive and Microsoft 365 have been smart enough to bundle in massive volumes of cloud storage with their basic and advanced plans.
When working on a hosted desktop then you will have access to a combination of fast, fibre connected, SSD disks for your database applications that need instant connectivity as well as the ability to connect to 3rd party cloud services like OneDrive, SharePoint, or Google Drive.
6 – Video Calling Software
Before the 2020 lockdown talking to someone over video was fairly rare, but all of a sudden not only are video calls common place they have introduced some vocabulary.  In the same way we now Google something, it is common place to Zoom someone or Skype someone and the words Zoombombing – where an uninvited person enters an online chat, or more commonly an uninvited cat or small child – or even Zoom fatigue when people get fed up of video calls – are now in the dictionary.
There are of course plenty of other online video tools, and Microsoft Teams and Slack are perhaps that other front runners to Zoom.
For large scale webinars then Cisco's Webex is perhaps the go to choice, and those in the Google Workspace ecosphere will be familiar with Google Meet.
If you are video calling in a noisy workspace then noise cancelling software like Krisp may be a useful addition.
7 – Screen Sharing Software
This goes hand in hand with video calling software above, mainly because many tools fulfil both requirements. Teams, Zoom, Slack, Google Meet all allow real time screen sharing.  Another simple to use but very intuitive tool is AnyDesk, and is especially useful if you have a collection of computers you commonly screen share or remote control.  Ideal for IT support firms.
8 – Remote Desktop Software
Following smoothly on from screen sharing software, remote control software is a way of controlling a remote PC. This can be used to remote control your office PC to run your business desktop applications from home. That is until someone turns off your office PC.  See Hosted Desktops above for a more reliable way of running your business apps remotely.  The most ubiquitous application is TeamViewer.
If you can get your IT people to set up a VPN link to your office (different than a VPN you may use to secure data in a public WiFi setting) then you can use the in-built Microsoft remote desktop client.
If you are remotely managing other people's computers including Macs as well as Windows, for example for IT support, then there is a good range of options, some paid, some free, including AnyDesk, GoToMyPC, GoToAssist, RemotePC, LogMeIn.
9 – Team Collaboration Tools and Chat
Along with video calling the other new type of tool that has become mission critical over the last few years is team collaboration tools.  Tools where you can post short (or long) messages to different teams or groups of people working on the same project as you.   Tools such as Slack and Microsoft Teams make communication easy for team members and especially remote workers, and is almost a replacement for the "across the desk" chat that home workers miss out on.  Features include group chat, private chat, screen sharing and video conferencing, as well as the ability to post pictures, emoticons and animated gifs.
10 – Project Management Software
For remote employees that work on defined projects there is a lot of project management software running in the cloud to keep track of tasks and progress. A project management tool is ideal both for those that manage projects as well as team members completing tasks on said project. There are a wide range of project management tools available some have free versions with reduced features such as Basecamp Personal where you can work in up to 3 projects and 20 users.  Other project management software includes Trello, ProofHub, Asana, ClickUp, Wrike, and GanttPro.
11 – Security Tools
Before we look at any more Software as a Service applications lets take some time to consider security when you have a lot of remote employees. First off, make sure remote workers have business provided dedicated PCs. The last thing you want is for your precious business data being saved on the same PC as your employee's kids use of an evening.  The same goes for business phones. There are plenty of VoIP services with dedicated desk phones that plug in to your broadband. This will hopefully reduce you business customers having their calls answered by a 5 year old.
Consider deploying file and disk encryption, especially if remote workers use laptops which could be left in trains, hotels and cafés.  Windows 10 or 11 Professional includes Bitlocker encryption.
Where data is being saved on any device whether cloud based, local PCs or an office server you should look to backup your data to cloud based backup services. Security experts recommend having at least 3 copies of data, one of which should be off site.
Where possible use two factor authentication when accessing cloud based services. Two factor authentication (often called Multi Factor Authentication) provides an extra layer of security by requiring something you know (your username and password) as well as something you have, such as your smartphone, and will prevent all but the cleverest and very targeted hack attempts.
If remote workers work from public places such as coffee shops, libraries, or hotels then a VPN service will prevent anyone on the same network seeing what your employees are sending over the internet. They work by using military grade encryption to scramble data as it travels over the internet.
Finally, a password manager is one of the most important tools any workers can use (remote or otherwise). If people aren't using a password manager then chances are they are either writing passwords down, or re-using the same password for multiple services which leaves them very vulnerable to having their credentials traded on the internet.
12 – To Do Lists
Back to a few more remote working productivity tools. There are a lot of To Do list apps available.  Personally, I use Tasks in Microsoft Outlook but there are a plethora of to do list apps out there to suit all pockets. Consider whether you need just personal ones, or ones that work for teams. Some of the free apps will have premium paid for versions for working with teams.  Popular choices include Todoist Premium, and Asana Premium. For free versions Remember the Milk, and TickTick are considered OK, and if you have a Microsoft account then Microsoft's To-Do may be a suitable choice.
13 – Time Tracking Software, Time Management Software
It's important to note that I'm not advocating micro managing or intrusively monitoring remote workers in real time to make sure they stick to their working hours. That is counter productive in my opinion.   However, for any business where customers are charged based on billable time, such as law firms or other consultancies, then software that keeps track of working hours spent on specific projects/customers can be very useful. Applications include HubStaff, Time Doctor and TimeCamp as well as others.
14 – Note Taking apps
I'm old fashioned, I like pen and paper. I did start using Evernote on a tablet, and also Microsoft's OneNote using a Surface tablet and pen, which worked quite well, and if we're all trying to save the environment, and your computer is on anyway, then note taking apps are a great way of capturing information as well as easily sharing it with colleagues, or archiving it for later.
15 – Distraction Blockers
Anti-distraction apps are a must if you want to concentrate hard on a specific task, and avoid distractions from email, team chat and, most of all, social media. When everything around you wants your attention time management becomes harder, it's very difficult to stay productive 100% of the time.
Most distraction blocking apps such as Freedom, will block specific sites/apps, such as Instagram for a set amount of time. They can even block off the whole internet if you need tot focus on specific tasks (that don't require the internet of course).
Remote Working, once a rarity, is now very common place and can also be a very productive way of working, especially now that there are so many tools available to make remote working simple.
Your Office Anywhere have been helping businesses work remotely since 2005 and are experts in remote desktop solutions.  Get in touch today to find out how your business could work remotely.
Contact us here for a fast response
Office
Your Office Anywhere, 4 Dominion Court, Billington Road, Burnley, BB11 5UB
Hours (Sales)
M-F: 9am - 5pm
S-S: Closed