Cloud Computing Flexible Working and the Benefits
If you want to work from anywhere how do you decide what you need with you wherever you go?
Your phone obviously, email too, what about other business software?  Perhaps you should go through your work PCs desktop and list all the applications you use every day.   If many of these are already "Cloud" based applications running online then you may be half way there already.
Chances are though, many of the applications you use are reliant on shared computers in your company office known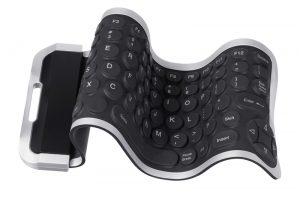 as servers.  Your main line of business system runs on a database there, plus all the documents you share with colleagues.  Looking at your PC desktop there is probably a host of things that you just can't use unless you are in the office.   Really you just want to be able to take your PC with you wherever you go, connected back to the office with a really long cable.   This article explains how you can do just that.
Cloud computing covers a multitude of services from online applications, online backups, email, web hosting, even moving your complete IT infrastructure to cloud based servers.
There is a cloud service that is less well known but has the potential to provide the tools needed for flexible working.   This service is called Hosted Desktops and – like the request above – it can give you the equivalent of taking your PC anywhere and still using everything on it as if you were back in the office, perfect for remote working.
Hosted Desktops have a number of other names including: Hosted Remote Desktops, Hosted Terminal Services and Hosted Applications.   A Hosted Desktop service will give you and your colleagues a standard Windows desktop, with all your favourite business applications installed, that is actually running "in the cloud" or in reality on servers belonging to the service provider, usually in a secure data centre.
Not only are the remote desktops running in that data centre, but also the Line of Business database I mentioned earlier, and the shared documents.   All the stuff that used to run on computers in your company office – the servers – now run in the hosted environment.   Everyone in the company will use a remote desktop to run their applications, whether they work in the office, at home, another office, or are completely mobile, so they all share the same experience.
The remote desktop will look and feel like a normal Windows desktop.  Once logged on the applications are no different than if they were installed on the user's PC.   It is even possible to have the individual applications running on the remote desktop accessible from icons on the local PCs start menu, they appear to run on the PC without the remote desktop being visible, even though they are actually running remotely.
What are the other benefits of hosted desktops besides flexible working?
Like many cloud computing services, hosted desktops tend to be rented on subscription, a pay-as-you-go model covering the number of users and applications needed at any one time, as opposed to upfront purchases of servers and software licences.
For small businesses they would generally have a lower Total Cost of Ownership than on-premise, owned infrastructure plus the advantage that there isn't a need for particularly high specification PCs as everything runs on the hosted server.  So extending the life of older slower desktops and enabling the use of other devices such as Macs, iPads and other tablets, even supporting Bring Your Own Device in a safe and secure way.   They also remove a lot of the need for specialist IT support as most issues are dealt with by the provider.
What do I need to consider before moving to a Hosted Desktop provider?
Internet Connection
Moving your business to cloud computing does require a reliable Internet connection, although not an especially fast one.
Guarantees
While Internet outages may not be the responsibility of the provider, unless their equipment is at fault, any outages will impact your business.  Make sure the provider offers a Service Level Agreement that will compensate for outages caused by their infrastructure.
Trust
If you are handing over your data and IT operations to a third party you need to make sure they are competent.  Check how long they have been trading, what their credit rating is.  Are they ISO 27001 certified? Do they own their own equipment? What Tier is the data centre? What high availability and disaster recovery systems do they have in place?
Support and Maintenance
With all hosted solutions you should expect that the computers are supported and maintained by the hosting provider, this should include Anti-Virus and Windows Update management but also backups of the operating systems, databases and documents.
Contact Us
Hosted desktops may be a major change for your business but it will also be a simple one with little upfront costs, so if you are looking at more flexible working arrangements for your business this is an area that is worth a look.
For more information on cloud computing and hosted desktops specifically contact Your Office Anywhere on 01282 500318 or contact us.
Visit different areas of our Info Hub to learn more
Microsoft Office 365 Hosting
About 'Your Office Anywhere'
All about Cloud Computing
Hosted Desktops Apple/Android
Contact us here for a fast response
Office
Your Office Anywhere, 4 Dominion Court, Billington Road, Burnley, BB11 5UB
Hours (Sales)
M-F: 9am - 5pm
S-S: Closed