How Hosted Desktops work – the technology explained
How Remote Desktop Services let you run a Windows Hosted Desktop over the Internet on any device
Imagine your work PC with all your usual business applications, your Microsoft Office programs, plus all the documents and data that you share with your colleagues saved on the network.
Then imagine being able to take that PC anywhere in the world and continue to work with your applications and shared data, any time you choose.
That's the power of a Hosted Desktop.   You can update your databases and change documents, all your changes are visible straight away by your colleagues back in the office, or wherever in the world they are.
Hosted Desktops use a technology called Microsoft Remote Desktop Services, sometimes called Terminal Services.   Everything runs on your own dedicated Windows server in our secure UK data centre.   The only thing that travels down the internet is your keyboard and mouse presses.   The only thing that travels back up is the image of the server's screen.   Your applications are actually installed on the hosted server not on your PC.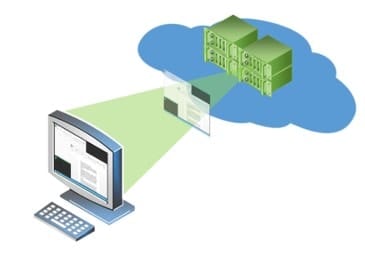 Hosted Desktop
All you need on your computer or tablet is a small piece of software called a Microsoft Remote Desktop Client.   This is available for PCs, Macs, iPads, Android tablets, and Google Chromebooks.
Your server is what's known as a Virtual Server "guest" running on a Hyper-V cluster of dozens of physical "host" servers.   If the physical server that holds your guest has a hardware fault then your guest can be moved very quickly to another physical host, meaning you can keep on working just as before.   Your server benefits from the economies of scale of a large hosting environment to provide high performance, reliability and resilience at low monthly rental prices.
All the data is also held in our UK data centre so it is physically close to the applications (like Office) you are running.   This ensures great performance and reliability as well as security.
At Your Office Anywhere we are more than just a Hosted Desktop provider.   With over 20 years' experience with Remote Desktop services, implementing solutions for some of the county's leading blue chip corporations we know how important it is to trust your provider.   We look after your server, making sure it is backed up, has the latest Anti-Virus updates and Windows Updates, and fix things if they go wrong, all as part of the service.

We are ISO 27001 certified for our Information Security Management System meaning that the safety and security of your data is at the heart of everything we do, and this includes GDPR compliance.
Read this article about how Age UK Essex use Remote Desktop Services to run hosted desktops on Google Chromebooks.
Find Out More About Our Hosted Desktop Services
Why not visit our hosted desktop page to find out more about our services.   Alternatively you can contact us or call us on 01282 500318 for a no obligation chat.
Contact us here for a fast response
Office
Your Office Anywhere, 4 Dominion Court, Billington Road, Burnley, BB11 5UB
Hours (Sales)
M-F: 9am - 5pm
S-S: Closed