How safe is your data in the cloud?
Lots of businesses have concerns about moving their data to the cloud, and rightly so.   With many of the big name cloud providers you may not have any control over where your data is kept, or even have any knowledge of its location.
If you are in a regulated industry you may be required to state that you can visit the site where your data is held to complete your due-diligence that the security measures are as stated.
The question that customers should actually be asking is "how safe is my data in the office?" How easy would it be for someone to come in and actually steal the server from the office? How easy is it for a disgruntled employee to take gigabytes of sensitive data or data that would be beneficial to a competitor? Just because you can "see" the data and having a server in the office gives you a warm feeling doesn't mean that the data is "safe".
Some of the common questions companies researching cloud computing are asking are covered below.   The answers given relate to the security measures in place at Your Office Anywhere's data centres and can be used as a benchmark when comparing cloud providers.
Q. Would I be able to come and see your solution before I commit to purchase?
A. Yes, this would be welcomed.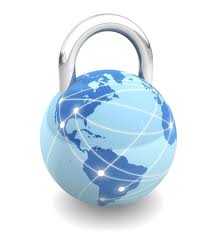 Q. What resilience/security is available at the Data Centre?
A. The data centre is manned by security 24 hours a day and access is only allowed with a photo ID and by pre authorisation by a member of the authorised Cardium team which expires after 24 hours. The building has UPS battery backups and also diesel generator backups to keep the Data Centre running in case of power failure.
Q. How is resilience ensured at the internet network level?
A. Multiple providers provide internet services into both our data centres
Q. How is resilience ensured at the DMZ level?
A. YourOfficeAnyWhere has two separate firewalls so that should one firewall fail the other can be used to service the traffic until the other firewall is replaced. There is a 3rd firewall at Data Centre 2.
Q. What about power failure at the server level?
A. For all our servers and infrastructure equipment there are dual power supplies which are connected to distinct power rings in the Data Centre.
Q. How is resilience ensured on the internal network?
A. All systems have multiple network cards and these are patched into separate network switches.
Q. What resilience is there at the actual Data Centre level?
A. Your Office Anywhere operates key services out of two data centres. Data centre 1 hosts the majority of servers – email, database and terminal services. Data centre 2 houses an additional backup server (for copies of backups), domain controllers, DNS Servers and a firewall to ensure that key services are available in the case of an absolute disaster at Data Centre 1. Data Centre 2 is available to customers also to provide business continuity of services should Data Centre 1 fail completely. 
Q. How is logon ensured to Your Office Anywhere?
A. Your Office Anywhere has multiple Windows Domain Controllers at both locations
Q. DNS. How can you ensure you can find "me" or connect to what I need to in the Data Centre via the Internet?
A. Your Office Anywhere has multiple DNS servers that do this, and these are located in both Data Centres.
Q. What about backups if Data Centre 1 burns down?
A. Backups from Data Centre 1 are replicated immediately to Data Centre 2 ensuring that your data is safe if Data Centre 1 burns down.
Q. How can I ensure that I have access to applications if Data Centre 1 is not available?
A. You can request for business continuity services from Your Office Anywhere who will be more than happy to provide you with a cost for this additional service.
Q. What would happen if my physical server fails in the Data Centre?

A. The Hosted Remote Desktop solution is housed on HYPER-V clusters each containing up to 16 physical servers.  Should a physical server fail, the customer's virtual server guests running on that hardware will fail over onto available resource on another server automatically and bring the system back up. Each server has redundant power, multiple quad core processors and 128GB or more of memory using Dell Enterprise Server hardware.
Get in touch today
Why not get in touch for a no obligation chat about how we can help your business.  You can either fill out our online contact form or call us now on 01282 500318.
Contact us here for a fast response
Office
Your Office Anywhere, 4 Dominion Court, Billington Road, Burnley, BB11 5UB
Hours (Sales)
M-F: 9am - 5pm
S-S: Closed