Is your broadband too slow for Sage Drive?
The Sage Drive feature of Sage 50 and Sage 50c Accounts has a recommended minimum download speed of 4mbps and upload speed of 2mbps.
Sage Drive is a way to synchronise your Sage database between computers via the Cloud.   It is a slightly different
take on cloud computing than that taken by some of Sage's rivals who have adopted a completely online approach.
Having a slower broadband speed than that recommended by Sage may lead to, at best, synchronisation failing and at worst corruption of the database.
So what if your broadband speed is slower than that recommended?
According to Ofcom the average "home" broadband speed is now almost 29mbps download, however, the average rural broadband speed is less than half this, and the average rural upload speed is only 1.6mbps so slower than Sage's recommended 2mbps.
This means that most rural businesses cannot reliably use Sage Drive.   Does this mean they can't take advantage of cloud computing by sticking with Sage?   Not necessarily, there is an alternative.
Hosted Desktops – a more reliable way to run Sage in the Cloud
A Hosted Desktop is a cloud technology originally designed to run applications over the Internet when speeds were much slower than they are now.   The minimum speed for remote desktops is only 64kbps per user, so less than a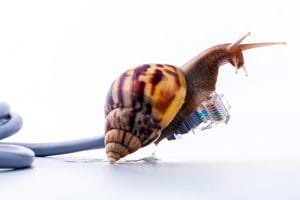 twentieth of the average rural broadband speed.   A rural business with half a dozen users running Sage on a Hosted desktop could do so adequately over a 1mbps connection.
Hosted Desktops has both the Sage application and its database on the hosted server, nothing is installed on the user's PC.   This allows an unlimited number of users to connect and run Sage at the same time (Sage licences permitting of course).   The only thing travelling up and down the Internet is the mouse clicks, keyboard taps and screen refreshes.   This is tiny in comparison with a full database sync on Sage Drive.
Of course speed isn't the only issue with rural broadband, reliability can also be a big factor.   If a business has a fast internet connection that keeps cutting out it could also cause problems if Sage Drive is trying to synchronise when this happens.   However, if a Hosted Desktop connection cuts out everything just continues happily in the background ready for things to continue as before once the connection is restored.
Want our help to run Sage on Hosted Desktops?
To find out more about running Sage or any other application on a Hosted Desktop visit our Sage Accounts Hosting or Sage Access For Macs page.   You can also contact Your Office Anywhere online now for a no obligation discussion about your business IT and Cloud requirements.
Contact us here for a fast response
Office
Your Office Anywhere, 4 Dominion Court, Billington Road, Burnley, BB11 5UB
Hours (Sales)
M-F: 9am - 5pm
S-S: Closed