Problem Connecting to Sage Remote Data Access (formerly Sage Drive) | Sage Drive Crash | Remote Data Access Offline
Do you have Issues or Problems with Sage Remote Data Access or Sage Drive or Sage Remote Data Access Crashes but still want Sage in the Cloud? Are you tired of seeing error messages such as 'The main site is no longer communicating', 'The Remote Data Access service is currently unavailable', 'sage drive processing please wait', 'Your computer is not connected to the internet' or 'Sage Drive Down'? Here's why Hosted Desktops have the edge over Sage Drive.
Many software companies nowadays are focused on developing Cloud based applications, software as a service. Our modern mobile world demands the ability to access all our applications at anytime, anywhere and software vendors are falling over themselves to comply.
However, I don't think I'm alone in thinking that many of these web based applications don't appear to be as functional or as feature rich as their locally installed "desktop client" counterparts, and all too often their performance is underwhelming.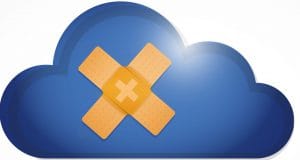 A simpler option is to host the feature rich desktop client application, the operating system it runs on, and the data or database it uses altogether in the Cloud and access the whole lot as a Remote Desktop or Remote Application.  This solution, commonly called Hosted Desktops or Hosted Applications provides the best of both worlds; the performance, functionality and features of a locally installed desktop application with the flexibility, resilience and security offered by the Cloud.
A slightly alternative approach has been adopted by accounting software company Sage, for their popular Sage 50c Accounts package. Here they have gone for a combination of a locally installed desktop client plus synchronisation to the Cloud with their Sage Remote Data Access (formerly Sage Drive) solution; but how does it compare with the traditional on premise server or a hosted desktop?  A quick Google search on "Sage Drive Problems" highlighted some frustrated customers on AccountingWeb so we asked one of our partners who are a leading Sage implementation consultant for their unbiased view, here's what they came back with:
Sage Remote Data Access aka Sage Drive is Sage's attempt to "catch-up" in the Cloud arena, but it isn't really Cloud in that the solution still heavily relies on local installs and a local database. The "Master" install of Sage synchronises the database with Sage's cloud servers which in turn synchronises changes to other installations in the customers' business.
There are a number of issues with how this works such as "the Remote Data Access Service is currently unavailable", "Sage Drive Down" or "Sage Drive Offline", primarily the master installation has to be online for the whole thing to work, so if that version is on the Finance Manager's laptop and he's turned it off then Remote Data Access/Sage Drive doesn't work. So it pushes the customer to rely on an on premise server to hold the database, so not really in the spirit of Cloud computing and what if this computer crashes or is out of action for a time or even stolen?
If the master installation is given an updated version of the application then all the other installs must be updated before they can use it, or else there is a chance that your Sage Remote Data Access  may go down. If you have an organisation with 10 users this takes a bit of time, and in our experience, doesn't always work, so you have to raise a helpdesk call with Sage. This is so different when using a Cloud Hosted Desktop with Sage installed as the application only has to be updated once on the hosted server and everyone gets the new version instantly.
The Sage Drive, Sage Remote Data Access also appears to be the cause of a lot of corrupted databases, users getting error messages such as:
'Your Sage Accounts data is out of sync with the data held on Remote Data Access/Sage Drive.'
'Your Remote Data Access/Sage Drive data is currently unavailable whilst it auto syncs with the cloud. Sage Accounts must now close.'
'Your company has failed to synchronise for remote data access. You will be unable to access your company whilst the data synchronises. Sage Accounts must now close'
or 'Sage Accounts will now close to allow the current Remote Data Access/Sage Drive data to be downloaded.'
These Sage Remote Data Access problems may require another call to Sage support.
These issues will never happen on a Hosted Desktop platform as the data is on your server and doesn't need to synchronise, ever. 
All in all, in our view a hosted desktop platform provides a much more stable, trouble free and flexible way of running Sage as a proper Cloud application, ensuring that you never have to deal with your Sage drive going down.
So, what are hosted desktops? In short hosted desktops are simply a hosted Windows server running as a hosted Terminal Server to provide the user either a full remote desktop or just individual remote applications, depending on preference. The application e.g. Sage and its database also reside on the server, so they can be accessed anywhere via the Internet and on any device, including Mac, iPads and Android tablets. A good hosted desktop provider will manage the server, providing backups, anti-virus, patches and updates to your application when required.
Get help to use Sage in the cloud without it crashing
 We have helped to solve the above problem for many UK businesses. We are one of the UK's longest established Hosted Remote Desktop and Hosted Application providers, managing servers for small and medium businesses in secure, UK data centres.
Read more about our Sage 50 Cloud Accounts Hosting service and why not get in touch today for a no obligation chat. You can get in touch by calling 01282 500318 or online now.
Contact us here for a fast response
Office
Your Office Anywhere, 4 Dominion Court, Billington Road, Burnley, BB11 5UB
Hours (Sales)
M-F: 9am - 5pm
S-S: Closed