How To Run All Your Applications On A Hosted Desktop
The choice of hosted desktop applications is huge.   Almost any Windows applications will run on this platform.   Host all your applications so you can achieve the full benefits of cloud based IT.
Hosted Desktops from Your Office Anywhere run on Windows Server 2012 or 2008.   The system uses Microsoft
Remote Desktop Services, formally known as Terminal Services.   Under the hood these operating systems are very similar to the desktop versions such as Windows 7 through to 10.   If your applications run on one of these desktops then there is a good chance they will run as hosted desktop applications.   While there may be some exceptions we haven't come across any yet.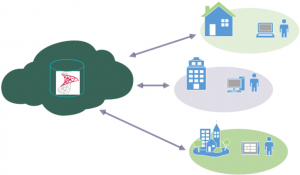 By running all your applications on the platform integration between them is easy.   If Sage 50 Accounts needs Microsoft Excel for reporting then you know it will work as they can both run on the same server.   Take the opportunity to reduce your IT outgoings by hosting all your applications, removing the need for any on site hardware and associated costs.
It is now possible to run certain versions of Office 365 on a Remote Desktop platform although so far this is limited to the ProPlus and E3 or E5 plans.
Save money with Hosted Desktop applications that use SQL Server
If your hosted desktop applications require Microsoft SQL server we can offer connection to a dedicated hosted SQL instance   This is on the same network for optimum performance.   We can also install SQL Express locally on the server for the most cost efficient solution.  See our page on SQL Server Hosting.
Even the most complex environments can be catered for.   We will work with you and your software vendor to architect the right solution for your business.
If you want to try out an uncommon or bespoke application first we will gladly help with this.   We can give you access to a test server and help you install and run the application to give you the confidence that it will work as expected.
Read this article about how we hosted desktop applications for Edinburgh Homeforce to allow their users to connect from multiple locations.
Want To Give It A Try? Contact Us Now
Feel free to get in touch for a no obligation chat about how we can help with your solution.  You can either call us today on 01282 500 318 or use our online contact form.