Unable to download large files from Sharepoint
We received a call today from a customer who has around 50GB of data in our DocumentsAnywhere (Sharepoint) cloud based storage solution – saying they were unable to download a 120MB file using Windows Explorer on Windows 7. They could however download the file from Internet Explorer without any problem and they could upload files of a similar size without any issue.  The easiest way to access cloud based storage is by using Windows Explorer. The storage is presented as a network folder that allows you to use all your desktop applications to access the data.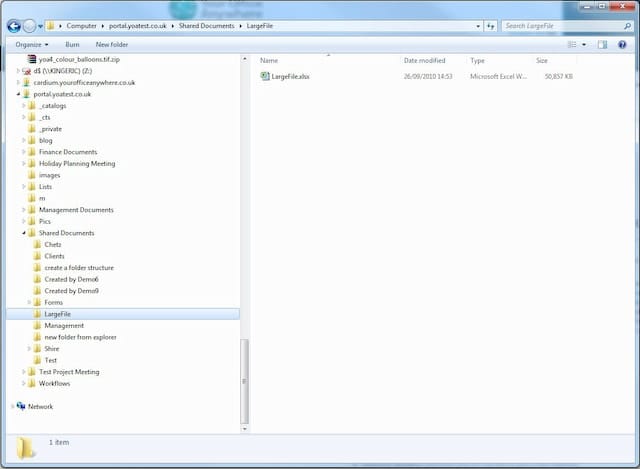 When attempting to download they recieve the following error:
"Error 0x800700DF: The file size exceeds the limit allowed and cannot be saved."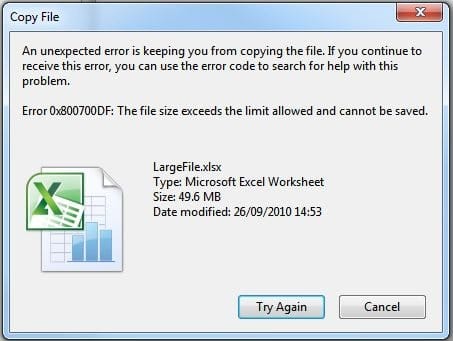 We were able to repeat the issue using all versions of windows from Windows XP SP2 so set about trying to resolve it. After some investigation we found that a limit for file downloads from cloud storage solution  was implemented by Microsoft to prevent the client computer being forced into denial of service attack. This limit was set to 50MB so when you try to download any file over 50MB the client computer interprets this as a denial of service attack and stops the download.
Note: On Windows Vista or Windows XP the error is different. "Cannot copy filename: Cannot read from the source file or  disk"
This limit is controlled by a key in the registry. The key is HKEY_LOCAL_MACHINESYSTEMCurrentControlSetServicesWebClientParametersFileSizeLimitinBytes
The default setting is: 50000000 (50MB)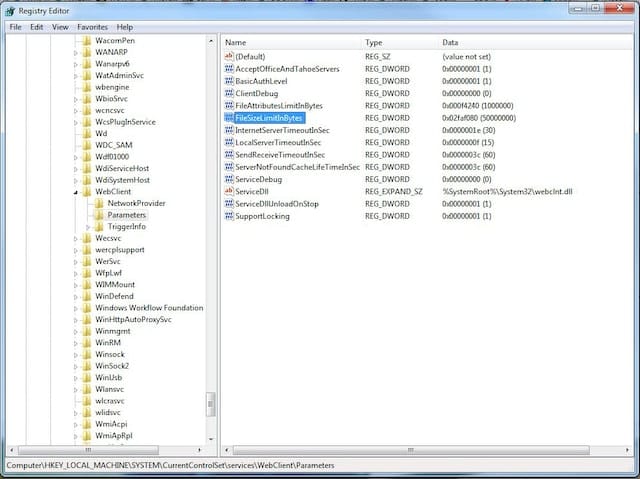 To allow larger files to be downloaded you need to change the value of this key to match the size of the largest file you wish to download.  To do this you need to do the following:
Click Start, click Run, type regedit and then click OK

Locate the FileSizeLimitinBytes value and click Modify

In the Edit DWORD Value box click to select Decimal option. In the box enter the new value.

Quit the registry editor and restart the computer.
As a guide here are some conversions from bytes to MB:
50000000 bytes = 50MB
100000000 bytes = 100MB
500000000 bytes = 500MB
View Our Documents Anywhere Service
Our documents anywhere service is the perfect solution to the above problem.  Contact us today on 01282 500318 or use our online contact form.