How Hosted Desktops Allow You To Use Applications Anywhere
Hosted Applications give you and your colleagues true mobility.
The beauty of "The Cloud" is the ability to access your applications and data anywhere over the internet.   The beauty of Hosted Desktops is that you don't have to use web based "cloud" apps to run your business.   You can continue with the feature rich desktop apps that you know will perform.
As the desktop application, documents and data are all on the servers nothing runs on your PC.   It doesn't matter where you are or what device you use, you can always run your applications.  You can use a PC, Mac, iPad or Android device.   We have users around the world all getting great performance from their hosted applications.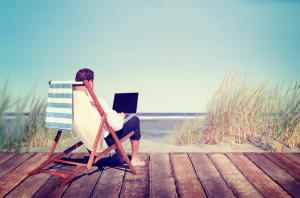 Hosted Applications are ideal for firms with several branches, where often the head office benefits from better IT than the remote branch office.   Now everyone gets the same high quality performance.   There are no restrictions on the number of users or sites using the system.
Mobile workers can run their desktops from anywhere there is internet access.  If there is no Wi-Fi available 3G mobile signal can give equal performance.   You can even run your applications from a web browser.
Hosted Desktops are served over the internet using technology first designed in the days of dial-up.  This means you get good performance even in areas of poor bandwidth.
Try Hosted Applications for Yourself
Every application is different and while we are totally confident that our platform will perform we would want you to feel the same way before signing up.   We can give you a free demo account to try some common off the shelf applications like Office or Sage.  If you have a bespoke application or something a little different we can install it on a test server for you to try.
Why not call us today on 01282 500 318 or contact us via our contacts page.
Software developers can read this article about how Rentman Software are able to deliver their desktop application with the flexibility that only cloud can provide.