What is Desktop as a Service or DaaS?
Desktop as a Service (DaaS) is the provision of a computer desktop, most commonly a Windows desktop, that is hosted on a service providers servers and accessed over the Internet.
There are a number of acronyms for cloud services:  Software as a Service (SaaS), Infrastructure as a Service (IaaS), Platform as a Service (PaaS), Communication, Network, Monitoring and of course Desktop.  Collectively they all refer to things that are being delivered over the Internet rather than being provided locally or on-site, or "On-premise".
The term Desktop as a Service actually short changes the concept as typically customers of this service are getting Platform and Infrastructure included.
DaaS at the front end will generally be a Cloud Hosted Desktop, sometimes referred to as Virtual Desktops.  At the back end there will be some high-end infrastructure.   Servers, data storage, networking, coupled with service offerings that may include backups, security, upgrades etc.
The History
Hosted Desktops are a popular example of DaaS.   The hosted desktop uses Microsoft Windows Terminal Services functionality.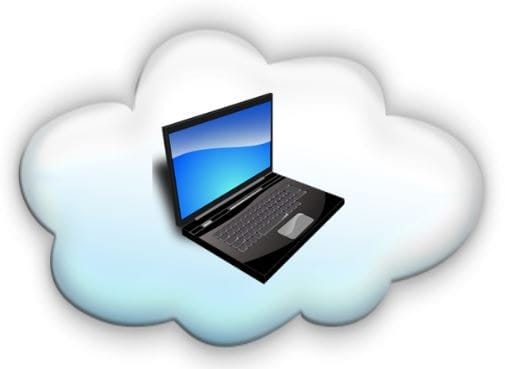 Here's a quick history lesson – In the old days server engineers wanting to manage a server had a keyboard, monitor and mouse plugged into the back of it.  Things moved on with the advent of remote desktop protocols and the engineers could manage the server over their local network from the comfort of their desk.   As servers became more powerful, businesses found they could save money by running their office applications on the servers and have cheaper low end PCs or even thin client terminals allowing the users to connect to an application or desktop using Terminal Services.   Move on a few more years and the advent of fast broadband and it becomes possible to not just run those remote desktops over the local network, but also over the Internet.
With a Hosted Desktop, a customer will have their own hosted terminal server (aka hosted remote desktop server) in the providers data centre.  On that server will run the customer's business applications.   This may be an accounting package, CRM, Office and Email applications, anything really or a combination of all of them.  The customer can connect, either by running the hosted applications or by running using a full Remote Desktop, from anywhere with an Internet connection, hence Desktop as a Service.
It could be questioned what advantage this has over on premise infrastructure and a simple VPN solution.  The key is the Service part of the expression.   All the usual costs and effort involved in running a server such as backups, anti-virus, patches, updates, licences, power, cooling and support are all provided as part of the service.  All the customer has to do is turn up and use the service.
Learn more & contact us about your Hosted Desktop today
Your Office Anywhere are one of the UK's longest established Hosted Remote Desktop and Hosted Application providers, managing servers for small and medium businesses in secure, tier 3, UK data centres.   Find out more about our hosted desktop services or alternatively you can fill out or online contact form or call us today on 01282 500318.
Visit different areas of our Info Hub to learn more
Microsoft Office 365 Hosting
About 'Your Office Anywhere'
All about Cloud Computing
Hosted Desktops Apple/Android
Contact us here for a fast response
Office
Your Office Anywhere, 4 Dominion Court, Billington Road, Burnley, BB11 5UB
Hours (Sales)
M-F: 9am - 5pm
S-S: Closed