Hosted Desktops and Hosted Telephony to complement your Managed Offices package
Introduction
If you work in the Serviced or Managed Offices industry you will know that for new businesses the ability to turn up and have every facility provided for you is a godsend, taking away a large chunk of the stress of managing and building your business.
Typically business can expect space, power, kitchen and toilet facilities, sometimes furniture and increasingly a level of IT such as Internet access including Wi-Fi.
What serviced offices are generally unable to provide is the next level of IT infrastructure; somewhere for the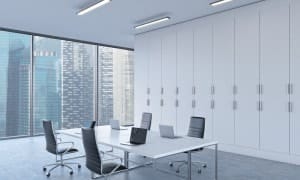 business to run their applications, databases and documents.   Traditionally this would be a small server in the office but more and more businesses are looking to use Cloud based solutions for the flexibility and savings they offer.  The same goes for telephones where cloud hosted telephony systems (Voice over IP) are rapidly replacing on site PBX to provide "Large Corporate" telephone features for small businesses of any size.
So as a provider of Serviced Offices if you could also offer these types of solutions you would truly become a one stop shop for your customers.
At Your Office Anywhere we provide companies with managed, cloud hosted services to support their business IT needs, from Hosted Exchange email, Hosted Applications, Hosted Desktops and even Hosted Telephony.   We work with many organisations who resell our platform as part of their portfolio of services, managed office provides being just one of them.  There is no expectation of specialist knowledge on the part of the reseller, we would provide that.
Hosted Desktops and Hosted Applications
To explain what these are and how they work let's use a common example, a small business of 3 employees that all use Sage 50 Accounts for their finances and ACT as their customer relationship package.   To share the data in these applications they need a server.  In the old days this would have been sat in the office and required a level of support and maintenance, backups, anti-virus, patching etc.  With cloud hosting this server sits in our data centre and is supported and maintained by us.   The applications which would have been installed on the customers PC also run on the server, so there is nothing to install, meaning the user can run their Sage or ACT on any device they choose, anywhere in the world.
If you run virtual office facilities where customers can simply turn up and grab the nearest desk and connect to your Wi-Fi then Hosted Desktops are perfect.
Hosted Telephony
For small businesses modern technology levels the playing field.  You can't tell from a company's website whether there are 2 people or 200 people working there.   Hosted Telephony gives the same telephone functionality enjoyed by large corporates to small businesses.  Individual extensions and DDIs, Automated Attendant (Press 1 for Sales, 2 for Accounts), Call recording, Voice Mail etc. and all charged per user per month giving the level of flexibility that just isn't possible with onsite PBX systems.
Why resell Your Office Anywhere
As well as increasing the range of services you can offer your customers you would also receive either a discount or an equivalent rebate on the monthly rental charges.  This would give you an ongoing revenue stream for as long as the customer remains on the platform, even if they moved to different premises.
We would provide all the technical expertise to support the customer, from their initial enquiries through to supporting them on their server once up and running.  Really, all you need to do is make the referral.
We are probably the countries longest established cloud hosting providers, supporting hundreds of customer servers and thousands of users.   We are certified to ISO 27001 for Information Security Management Systems, and we own and manage all our infrastructure.   We are totally UK based and our helpdesk is available 24/7 for critical issues.
Next Steps
Becoming a reseller is very simple, and probably the best place to start is to call one of our technical sales consultants on 01282 500318 or sales@yourofficeanywhere.co.uk who can explain everything you need to know, or visit our reseller page on the website