ACT Hosting
Access your Swiftpage ACT! from anywhere over the Internet and on any device.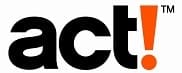 Hosting ACT in the cloud gives your team access to vital customer information wherever they are.   Sales Managers on the road can run hosted ACT from their iPad or MacBook just as easily as their colleagues in the Office using a Windows PC.
Our ACT hosting platform gives you a dedicated Windows server running as a hosted Terminal Server (also known as a Remote Desktop Server).  As many users as you need can logon to the server and run ACT or any other applications you want to install alongside it, such as Microsoft Office.
Some great reasons running Hosting ACT in the Cloud will help your business
No IT skills required – We will set up your hosted ACT system, restore your data and help you transition to ACT hosting.
Simple per user monthly fee with no contracts.
Increase or decrease users as needed for your business
Our ACT hosting solution includes Backups, Anti-virus, Windows updates and 24/7 support for critical issues.
We declare all Microsoft licences for you.
No complicated VPNs to worry about, you can even access your Hosted ACT system from a web portal if you are away from your normal computer.
Totally secure, data is encrypted over the Internet.   Your Office Anywhere and our data centres are certified to ISO 27001 Information Security Management System.


Discover the flexibility and security of hosting ACT in the cloud
Hosting ACT with Your Office Anywhere gives you a very reliable, resilient and secure way of sharing your customer data with everyone in your business who needs it.   Terminal Services is designed to cope with slow or intermittent network connections, so if you lose internet connection when your train goes through a tunnel ACT will be there waiting for you as soon as you reconnect, with no loss of data or database corruption.
If you need to update ACT to a new version, or patch then you just need to do it once on the server and everyone will be running the new version.  No need to visit every PC to install new updates.
Get in touch today to find out more
If you're interested in cloud hosting in general or Hosting ACT specifically just fill in our contact form.   Our friendly team will be in contact with you for a no obligation chat in the next 24 hours.  Don't worry, if you are not technical we can help guide you through the process.  Or if you prefer call us on 01282 500318