Microsoft Access is used by thousands of businesses and organisations across the world and is popular with many software developers who can build sophisticated database applications quickly, easily and cheaply.   This article advises how you can simply and cheaply share your Microsoft Access database application with colleagues wherever they are based.
For businesses with on-premises IT infrastructure (file servers) it is relatively easy to share your Microsoft Access database amongst multiple users – see this article about splitting an access database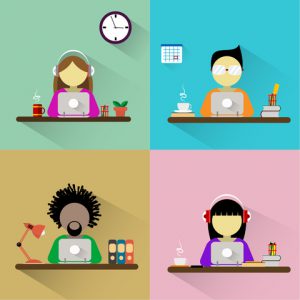 However, for businesses who don't have, or want, on site IT, or those that have multiple sites or remote workers, sharing your Microsoft Access database isn't as straightforward.   Trying to share databases over any form of cloud storage, OneDrive, Drop Box etc. just isn't going to work.  Connecting to an online SharePoint site, although suggested by Microsoft as a way of sharing an Access database, can in no way provide the performance expected of a client/server application running on premise and Microsoft are pulling this as a supported option in O365.
One easy way of sharing Microsoft Access is to use a Virtual Desktop hosting service.   Virtual Desktop Infrastructure, VDI for short, gives users a Windows desktop hosted with a cloud service provider, that can be accessed via the Internet from pretty well any device.
All the users of the Access database application will have their own logon to their virtual desktop but crucially all Access files and backend database can be running on the same service, usually on the same server so performance is as quick, if not quicker than running on a local network.
To connect to the application users can either call up their virtual desktop by using a remote desktop client or in some cases their application is published as a RemoteApp making it appear as if it was running on the user's local PC.   The only thing running on the user's local computer is the Remote Desktop Client, which means that users are not restricted to using Windows PCs, they can just as easily connect to their Virtual Machine with a Mac or even iPad or Android devices.
There are some other advantages to using a hosted Virtual Desktop service which include:
Other applications can be run alongside Access, for example an email client such as Outlook
The whole environment is supported by the provider, so they will worry about backups, anti-virus, Windows updates and fixing the infrastructure if things break.
It is very easy to scale up and down, the number of users is only limited by the limitations in Access, and if the database outgrows Access a good developer can migrate it to SQL Server which can also be hosted in the same environment.
As the only information travelling over the Internet are the keyboard and mouse clicks one way and screen refreshes coming back users can usually expect the same performance wherever they are in the world, ideal for companies with branches in multiple countries.
There are various forms of Virtual Desktop Infrastructure and the term is often interchanged with Remote Desktop Services or Hosted Desktops.  This article explains the technical differences between Hosted Desktops and VDI.
If you are a business looking to share an Access database with multiple users, or a software developer looking for an easy and cost neutral way of providing a cloud platform for your application, get in touch with one of the technical sales consultants at Your Office Anywhere who can demonstrate running Access on VDI or provide a test account for you to try own application.
Our contact page is here, or simply call us on 01282 500318