Your remote workers are some of the most important people in your business, very often they are the public face of your brand, engaging with customers and driving business growth.   So it is vital that these guys have all the tools to do the job.
This is what our simple 1, 2, 3 wish list for any remote worker would look like:
1 – Access to Enterprise Class email and calendars on mobile phone, laptop and webmail so the remote worker is never out of touch – A Hosted Exchange service from Your Office Anywhere runs on the latest Microsoft Exchange platform in our UK data centres certified for ISO 27001 Information Security Management System.
2 – Fixed line style DDI Phone Numbers that can follow the user wherever they are.   Hosted Telephony gives your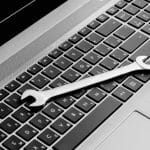 remote workers their own extension with a business class desk phone just as if they were sat in the office, they just plug this into their broadband.   For field workers our Intelligent Number enables users to logon to their extension on any phone, fixed or mobile, so calls to their "desk phone" DDI number will be automatically routed to the phone of their choosing.   Also available is call recording, either on-demand or record all ideal for ensuring financial services companies meet compliance obligations.
3 – Access to Line of Business Software Applications.   Move your business applications, databases and documents out of the main office and onto cloud hosted servers that are accessible over the internet by any member of the team regardless of where they are based or what device they use.
The remote worker or branch office can use the systems in exactly the same way as their head office based colleagues enabling them to place orders, check stock, monitor progress or run reports.   A hosted remote desktop system like this costs from around £29.50 a month per user.   The platform is supported and maintained by Your Office Anywhere including full backups, anti-virus and Windows updates.
Not only does the hosted desktop platform give all your team the right tools for the job it also removes the need for on-site IT systems and associated maintenance, licencing, support and eventual replacement costs.   See more information about Hosted Desktops here.
Contact us today to discuss your business objectives and see how cloud hosted services from Your Office Anywhere could revolutionise the IT experience for remote working.