Working from home is increasingly popular, whether it is a one off while the kids are off, or a more permanent arrangement.  Over the years home workers have not necessarily had the tools to be as effective as their office bound colleagues.   However, this need no longer be the case as technology has improved to the point where home workers, remote workers, field workers and office workers can all share identical systems and technology.
One of these new technologies is Hosted Desktops.   Replacing the traditional office server a Hosted Desktop gives you all your business applications, whatever they are, hosted in "The Cloud" for you to run anywhere and on any device.   Your data and databases are all stored alongside your cloud desktop for maximum security, performance, and accessibility.
Here are my top 10 IT issues for home workers that are solved by a Hosted Desktop solution:
No. 1 – Broadband speed and reliability issues – SOLVED
OK, you do need broadband for a hosted desktop to work, but it doesn't need to be super-fast fibre or anything like that.   The broadband speed requirement for hosted desktops is tiny, as very little data goes up and down the Internet, just mouse clicks, keyboard taps, and screen refreshes.   If you do lose your internet connection, don't worry, whatever you were working on will still be there just as you left it when you reconnect.
No. 2 – Technical support issues – SOLVED
Supporting home workers with PC issues can be challenging, but as all the business applications are running on a secure, managed and locked down hosted desktop it significantly reduces the things that can go wrong.
No. 3 – Virus and Malware – SOLVED
I cannot stress enough the importance of making sure home workers as well as office workers are protected by anti-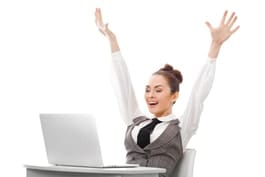 virus software, but it is much harder for systems administrators to keep tabs on this.   While a hosted desktop doesn't prevent users from getting virus on their PC at least you know that the hosted desktop server has managed anti-virus protection.   Additionally users don't have the necessary permissions to install applications on their hosted desktop so it is much harder for malware to take hold.
No. 4 – Installing and Updating Software – SOLVED
Whatever IT project I've been involved in, if it requires installation of software on a PC then it is always significantly more work if the users are remote, use laptops or work from home.   With a hosted desktop solution there is usually just one computer, the Remote Desktop Server, to update software on, just install once and everyone gets the new version as they all connect to the same server.
No. 5 – Shared use of PCs – SOLVED
If your home workers use their home PC for work – or worse, use their work PC for home – there is always the risk that it gets used by family members and the security and integrity of company data is at risk.   These risks are mitigated by using a hosted desktop solution as there is no data or applications on the user's PC.  Even if the PC gets trashed and has to be replaced, reconnecting to the hosted desktop can be done in seconds.   If you have a Bring Your Own Device (BYOD) policy then hosted desktops are an ideal way of supporting the policy in a secure way.
No. 6 – Home Network/Wi-Fi security – SOLVED
Most home workers will have limited knowledge of home network security and while modern Internet routers have secure Wi-Fi capability and firewalls built in to protect the home network from the Internet there's no protection from other devices on the network such as tablets belonging to the user's children's school friends.   Thankfully all communication to and from a hosted desktop is encrypted so even if the Wi-Fi network is insecure no data can be intercepted.
No. 7 – Data backups – SOLVED
Backing up data is integral to our hosted desktop platform, it can be ticked off your list of things you don't need to worry about anymore.   Home workers with data saved on their laptops or USB sticks used to be a nightmare for businesses to keep secure and backups probably never happen.   Now it is a thing of the past, as all the data is kept on the hosted desktop platform there should be no risk of data loss or theft.
No. 8 – Recovering or reclaiming data following long term illness or termination – SOLVED
Situations where someone has been suspended, dismissed or where they are incapacitated due to illness can be difficult, and retrieving data from home workers computers in these circumstances may not be straightforward.   Workers using a hosted desktop solution don't need to store data on their local computers, everything is saved on the remote server so access is easy, and removing a user's access can be done almost instantly.
No. 9 – PC Encryption – SOLVED
If someone steals a laptop without hard drive encryption they can very easily access and data on the laptops drive just by plugging it in to another PC.  However, if that drive is encrypted then they cannot read the data.   If you have home or remote workers it is very difficult to guarantee they have encrypted drives, especially if they use their own equipment.    If they use a hosted desktop however, then no data is held on the drive, so nothing is lost or compromised.
No. 10 – Regulatory Compliance – SOLVED
If you are in one of the many industries that have to comply with regulations, such as financial, healthcare or legal, then you have to prove that you are taking appropriate measures to ensure the security and integrity of data.    As a hosted desktop provider we are certified to ISO 27001 Information Security Management system, so we can give you all the assurance you need to meet your regulatory compliance.
No. 11 – Telephony – SOLVED
OK, this was supposed to be a top 10 list.  However, telephony isn't something we going to solve with a Hosted Desktop.   However, we can solve it with Hosted Telephony.  This is a VoIP system that enables your home workers to use the same desk phone handsets as your office workers.  They are on an extension in exactly the same way and can have a local DDI number even if they live in another country.  This includes being part of ring groups with colleagues in the office.
Every business is different and runs different applications, so if you need to provide tools for your home workers, or you are working from home yourself please get in touch and discuss your plans with one of our technical sales consultants.  Just call 01282 500318 or fill in our contact form.