Access database hosting for developers
Cloud or online hosting of Microsoft Access databases is becoming more and more popular, and for many businesses it can be a far more flexible and cost effective way of managing and sharing business information than web based alternatives.
However, many access developers are unaware of how quick and easy cloud hosting Microsoft Access is, so I wanted to produce a couple of articles on the subject for both businesses wanting to run an Access database online (click to view) – and also this one for commercial software developers building in Access who want to give their customers a low cost, cloud based, online database option without any investment or re-coding.
This article concentrates on hosting Access databases using hosted remote desktop servers.  While there were other Cloud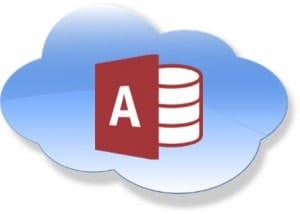 Access methods such as linking to hosted SharePoint sites with Office 365, reports on these were mixed and Microsoft have discontinued this service.  Hosted remote desktop servers provide the best performance and stability as everything is running in the same place.
It runs from anywhere
Users can run the hosted Access application from anywhere and on nearly any device as there are remote desktop clients for Mac, iPads and Android tablets as well as Windows PCs.  Some users prefer a full remote desktops but applications can also be run as a "RemoteApp" from an icon on the Start Menu as if they were installed locally, or as "WebApps" launching from a web browser but running in the same way.
Developers may be looking at hosted database options either as a solution for a specific customer or as a service they can offer alongside the software application.   For an individual customer a dedicated terminal server is probably the most appropriate option.  If however, a developer is looking to provide this as a solution for multiple customers then a multi-tenanted server may be the most cost effective route with different customers running on the same server but protected from each other using security permissions.
Access databases are split
Generally, Access databases are split into front-end and back-end databases.  When running on a terminal server it is common for each user to have a unique front-end application linking to a back-end shared with other users in the same company, this tends to improve performance although it is also possible for users to use the same front-end.   By splitting the database it is possible to run the application just using the free Microsoft Access Runtime licence, there is no need to install the full version of Access on the server. Read this article about splitting an Access database.
Hosted terminal servers will also allow you to integrate other applications with Access, for example other Microsoft Office applications like Word, Excel or Outlook as well as running other non-related applications in the cloud.   In fact nearly everything written here applies equally to most other applications.
If the application eventually out-grows Access then connect the application to a dedicated
Microsoft SQL Server
instance in the same datacentre for maximum performance.
Our Services
Your Office Anywhere are one of the country's longest established cloud hosting companies and we have been providing Access hosting since 2008.   While it is equally possible to run the Access application on a local server there are many benefits to both the developer and the customer of running an Access online database on a hosted server with Your Office Anywhere:
Prices start at just £29.50 per user per month for an Access application using Microsoft Access Runtime licence.
Developers reselling the platform will also earn a 15% rebate/discount on the monthly rental
The application can be run from anywhere and on any device.
There is no capital outlay for a local server, licences, or installation services.
There are no upgrade or replacement costs as operating systems or hardware become obsolete.
No long term contracts, complete flexibility to increase and decrease user numbers as needed.
The Remote Desktop Server (terminal server) is supported by Your Office Anywhere, including Anti-virus, Windows Updates and server backups
Data and databases are backed up daily (or more often if required) to a second data centre for resilience, and kept for 20 days.
99.5% uptime SLA.
24/7 UK support for critical issues.
Both Your Office Anywhere and our data centres are certified to ISO 27001 Information Security Management System.
Running Microsoft Access online instead of on a local server helps reduce carbon emissions.
In summary hosting Microsoft Access databases online enables companies to run their fully customisable line of business application anywhere, and on any device with the comfort of enterprise level security, performance and resilience for about the same price as the very basic (non-customisable) entry level versions of web based database applications such as Salesforce.   For developers this means your customers no longer need to invest in local hardware (which can be a barrier to sales), it also means an added service you can offer with no costs to yourself as well as an ongoing revenue stream.
Contact us today about your Access hosting
Call today to speak to one of our specialists to find out more about Access hosting, or any other aspects of cloud computing call 01282 500318 or contact us now.
Contact us here for a fast response
Office
Your Office Anywhere, 4 Dominion Court, Billington Road, Burnley, BB11 5UB
Hours (Sales)
M-F: 9am - 5pm
S-S: Closed