Sage 200 Hosting
Enjoy all the benefits of the full desktop version of Sage 200 but hosted in the cloud so you and your colleagues can access Sage 200 from anywhere and on any device.
Unlike Sage 200 Online which has limitations compared with a full desktop version, Hosted Sage 200 gives you full desktop functionality, plus all the benefits of running Sage 200 in a safe, secure, resilient UK data centre. All the infrastructure is managed and supported as part of the service including managed Anti-Virus, Managed Windows Updates, Backups for all the files and SQL Server databases, plus 24/7 support for critical issues.
How does Sage 200 hosting work?
Sage 200 Hosting works by installing Sage 200 desktop software on one or more dedicated Windows Remote Desktop Servers that users can connect to over the Internet. The infrastructure may typically include a dedicated Windows Application Server to run the backend Sage 200 application, a dedicated SQL Server instance for the database plus all the surrounding infrastructure to support the system as well as enabling you to connect to it from anywhere in the world over the Internet, and on any device. This means that not only can you run Sage 200 from your main office, but colleagues in branch offices, or who work remotely, can run it in exactly the same way
Key Benefits of Sage 200 Hosting
Massively reduced upfront costs compared with local IT infrastructure.

Lower IT overheads overall.

No more concerns over local IT infrastructure, backups, viruses, support.

Run Sage 200 on any device, Windows, Mac, iOS, Android.

Run Sage from anywhere you have an Internet connection.

Integrate with other applications and third-party plugins.

Flexible and scalable.
Benefits of Sage 200 Hosting With Your Office Anywhere
Fully managed, monitored and supported infrastructure including managed anti-virus, managed Windows updates, daily backups for Sage 200 data, weekly backups of underlying server operating systems.

Bespoke infrastructure to meet your specific Sage 200 architectural needs. We will work with your preferred Sage 200 consultants to build the optimum platform for your system.

We are ISO 27001 certified for our Information Security Management System, as is the commercial data centre where we keep our infrastructure. Be wary of hosting companies claiming ISO 27001 certification just because their data centre has it.

UK Data Centre, UK Support team.

24/7 support for critical issues.

Dedicated remote desktop servers and application servers.

Flexible and cost-effective SQL Server licensing and hosting options.

We are authorised by Microsoft to host Microsoft 365 (formerly Office 365) on our remote desktops alongside Sage 200.


No long-term contracts, just rolling monthly.

 

2 Factor Authentication available on remote desktops.

 
How Hosting Sage 200 Works From A Technical Perspective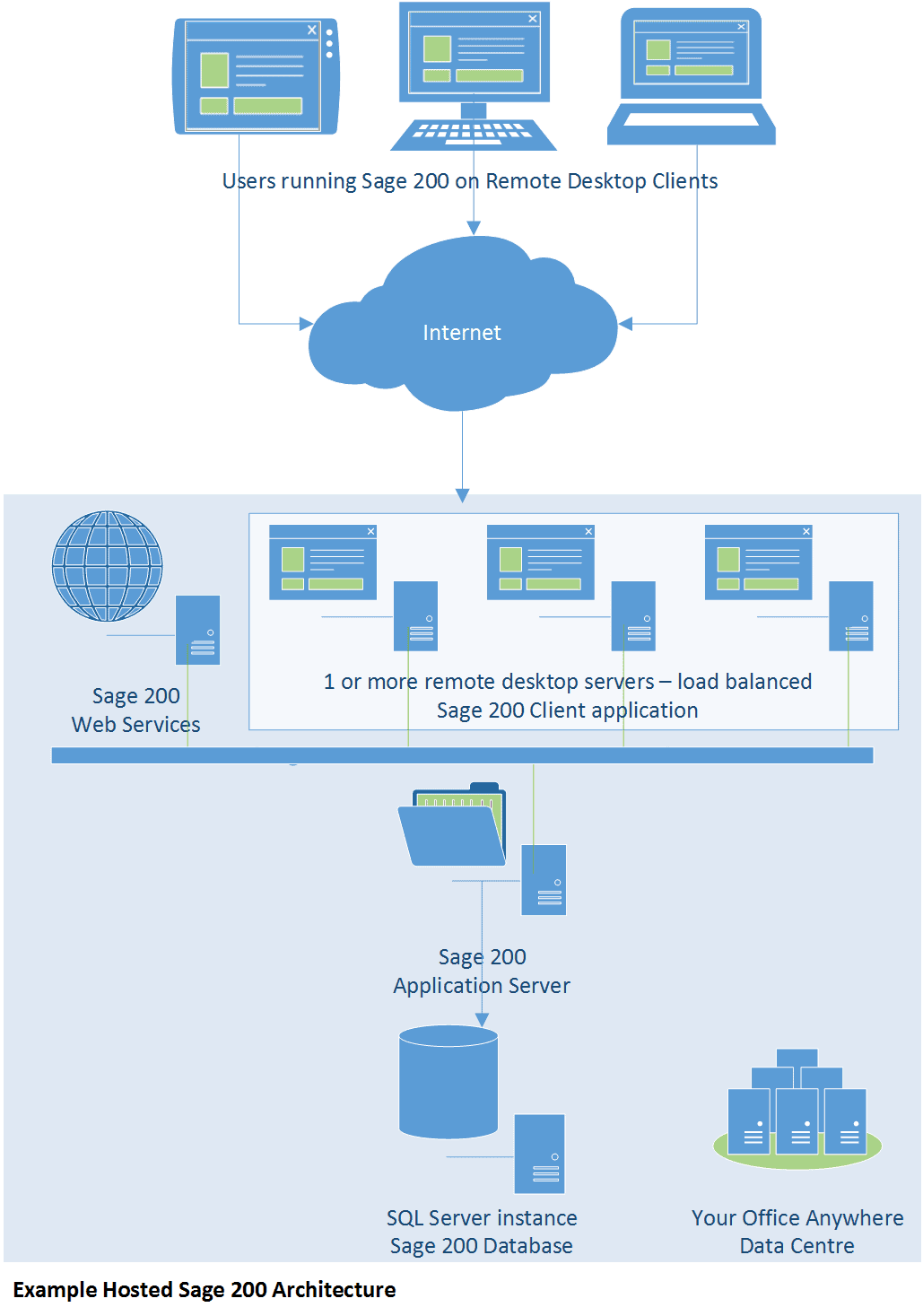 Expert help 
So much more than just Sage 200 Online
With Sage 200 Online there are some limitations. Sage 200 Online doesn't yet include all the different modules that you would get with the desktop version. Also, with Sage 200 Online it isn't easy to interact with other applications or third-party add-ons.
With our Sage 200 Hosting you have none of these limitations, everything that it available to you with an on-premise installation is available to you with Sage 200 hosting.
Combine Microsoft 365 Office Apps with your Sage 200 Hosting
At Your Office Anywhere we are a Microsoft Qualified Multitenant Hosting Provider. This means we are authorised to host Microsoft 365 Office applications alongside Sage 200 on our remote desktop servers. We are one of only a very small number of UK hosting providers legally allowed to host Microsoft 365. Running Microsoft 365 Office apps on a remote desktop (a shared computer) requires one of the following plans: Microsoft 365 Apps for Enterprise, Microsoft 365 Business Premium, Office 365 E3 or E5.
We can also rent the traditional Microsoft Office (Standard or Professional), as well as individual Office applications using the Service Providers Licence Agreement (SPLA).
How much does Sage 200 cloud cost?
Every Sage 200 hosting setup is different and total cost depends on any additional software required for example if Microsoft Office is running alongside Sage 200. It will also depend on the size of the database, number of users and whether web services are also required.
However, as a rough budget, at the time of writing (2021) a typical Sage 200 hosting service for say 5 – 10 users, with Your Office Anywhere, would be less than £46 per user per month.
Is Sage 200 cloud-based?
There is a cloud-based (web-based) version of Sage 200. It's functionality is slightly different than the desktop version and there may be some features missing that you would expect.
You can run the full desktop version of Sage 200 in the cloud by using a hosted remote desktop service such as Your Office Anywhere, which will give you the best of both worlds.
What is the difference between Sage 50 and Sage 200?
Sage 200 is considered the big brother to Sage 50. Both are designed for small to medium businesses but Sage 200 can cope with a lot more users and also a lot more transactions. Sage 200 also has a greater range of features and functionality. Many companies progress to Sage 200 if they "out grow" Sage 50.
How do you install Sage 200?
In all honesty Sage 200 is an application that is designed to be installed and configured by certified Sage 200 consultants. We would not recommend customers install Sage 200 themselves.
At Your Office Anywhere we will work closely with your Sage 200 consultant to configure the environment as per their requirements but we are not able to install Sage 200 for you.
Can I run Sage 200 on a Mac?
Sage don't write a version of Sage 200 for Mac OS or indeed any other operating system other than Windows.
The best way to run Sage 200 on a Mac is to use a hosted remote desktop service.  This is superior to running it using bootcamp or parallels.
Can I run Sage 200 on iPad, Android, iPhone, or Chromebook?
Sage don't write a version of Sage 200 for iOS or Android or indeed any other operating system other than Windows.
The best way to run Sage 200 on any of these devices is to use a hosted remote desktop service. 
Get in touch today to find out more about Sage 200 hosting
Contact us here for a fast response
Office
Your Office Anywhere, 4 Dominion Court, Billington Road, Burnley, BB11 5UB
Hours (Sales)
M-F: 9am - 5pm
S-S: Closed