Hosted Desktop data security
Sharing and securing data on Hosted Servers
Cloud data security is a hot topic.   Hosted desktops have strong features to share your data with the people that need to see it and restrict it from the people that don't.
Sharing of data is key to business and giving all users the same ability to access and share data increases productivity.  Whether that data is a document or a database.
Cloud data security is simple when using Hosted Desktops.  Shared data is managed using file and folder security.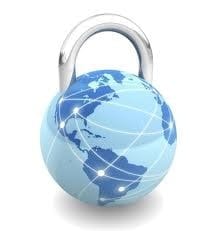 This means you can control who can read it, who can edit it, and who can delete it.  Users are placed into groups and security applied to those groups making administration of security really easy.
For example users in group "Finance Managers" could have read, write and edit access to files in the "Accounts" folder.  Users in group HR may be the only ones with access to employee records held in "personnel".
When you run a hosted application the data sent over the Internet is encrypted.
Access to applications is also controlled so you can decide who can run which app.
Cloud Data Security – part of our DNA
Data is held on one of our EMC Storage appliances housed in our UK data centres.   We and the data centres are certified to ISO 27001 for information security.   So you know that the security of your systems and data is in our blood.   It is built in to every process and procedure we perform.
We back up your documents 3 times a day and keep the backups for 20 days.   Databases are backed up daily and the servers themselves are backed up weekly.   This is all included in the price.
If you are looking for added security then we can also offer Two Factor Authentication (2FA).   This gives you the piece of mind that even if your computer is stolen the thief can't logon without both your password and access to your 2FA device e.g. a smartphone.
Contact us about your Hosted Desktop
If you need some help with a hosted desktop service why not call our friendly team on 01282 500 318 or fill out our online contact form and we will be back in touch shortly.
Contact us here for a fast response
Office
Your Office Anywhere, 4 Dominion Court, Billington Road, Burnley, BB11 5UB
Hours (Sales)
M-F: 9am - 5pm
S-S: Closed