Top 10 tools and tips for working from home
At the time of writing England has just gone into a second national lock down in response to the Covid-19 pandemic.   Although most businesses are still allowed to continue the government is still encouraging people to work from home if they can.
While working from home can present many challenges, IT systems don't need to be one of them.
If you are a business looking to enable home working for the first time we discuss what help and tools are available?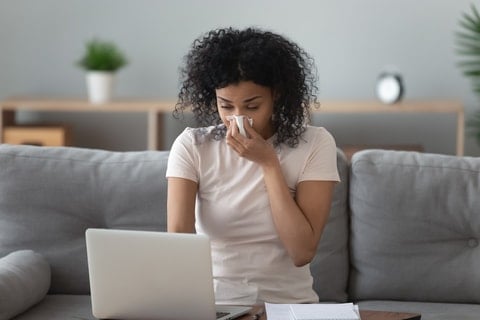 1 – Email
Ok, this is an easy one as remote access to email is almost ubiquitous from phones and browsers as well as traditional desktop client software such as Microsoft Outlook. Make sure you have a business class email service that allows isolated workers to share calendars and presence as well as email. Options include Hosted Exchange, or Microsoft's Exchange Online
2 – Phone
Sign up for hosted Voice over IP (VoIP) telephony where you have the ability to make and receive calls to your main business numbers, or DDIs, straight to your mobile.
3 – Business Software – Office applications
There are lots of ways of sharing document files online. For simple sharing, services such as OneDrive, Google Drive, DropBox etc. will suffice. If you want more structured sharing with access to files controlled by security permissions then look at Hosted SharePoint or Office 365 plans that include SharePoint.
If your Office applications need to interact with your business software then look at hosted desktops in item 4 below
4 – Business Software – Databases and other line of business applications desktop applications
Many corporate business applications are what's called "Client/Server" apps, i.e. they have some software running on your office PC and a database or files shared from a central server in the office.
Making these applications available for people working from home is actually a lot easier than you might expect. Moving the applications to a hosted remote desktop service will enable everyone, no matter where they are, to work on them at the same time.
If your business software interfaces with Office then you can also install Office on the hosted remote desktop server and share all your Office documents from the remote desktop as well. Easily running your whole business on a hosted remote desktop. In fact, for all sorts of reasons, a hosted desktop is probably the single best tool for working from home.
5 – Business Software – Cloud (web) based
Many business applications are now available online via a web browser or smartphone/tablet app. Colleagues working from home can either run these from their own devices, or if being used in conjunction with desktop business applications they can also be run from a hosted desktop.
6 – Chat
The sudden isolation of working from home for the first time can be challenging for some people. Why not introduce a shared chat system such as Microsoft Teams. This can be configured into groups for conversations on both business topics as well as less formal ones. It is also great for screen sharing and online document collaboration. If Coronavirus is keeping all your colleagues and customers isolated then Teams is ideal for video conferences as well
7 – Keeping secure
Businesses spend thousands on keeping their company data secure, so to suddenly allow all your workers to have that data on their home computers could un-pick a lot of work. It's very difficult to ensure that users home systems have up to date operating systems, are fully patched and have good anti-virus software. Here hosted remote desktops (hosted desktops) comes to the rescue again as the data never leaves the secure data centre, and all the systems are fully patched, with enterprise grade anti-virus, firewalls and anti-spam/web filters.
For those concerned about the physical security of the devices that users have at home, and the risk of theft and how that might affect data security, then look at implementing 2 factor authentication on your remote desktop or other cloud based applications.
8 – Getting advice
Every company is different and technology that works for one may not be suitable for another. Speak to your local IT provider to see what options they suggest or get in touch with one of our technical sales consultants using the form below who can advise on cloud-based services for home working.
9 – Staying focused and productive
As a home based worker myself I know that you need a certain element of self-discipline, but actually it can be a lot more productive working from home. You don't get distracted by office conversation or waste half an hour making cups of tea for 10 colleagues. It is important to treat home working the same way as office working, keep the same hours, make sure your family know not to disturb you while working, turn off social media, TV, and other non-business related distractions. Set your self the same working schedule as you would if you were in the office.
10 – Give yourself a proper working environment
Businesses, especially large corporations, will have lots of health and safety policies about workplace ergonomics. The same needs to apply to home working. If you are working from home because of Coronavirus restrictions then make sure you protect the rest of your health and well being by applying those same policies. Don't work from the sofa and coffee table, even working from the dining room table isn't ideal. If you can, set aside a well-lit study or home office with a decent desk, monitor, and adjustable chair with a 5 star base.
At Your Office Anywhere the clues in the name, we specialise in effective cloud based solutions to enable you to work from home or anywhere else. To find out more simply get in touch via our contact page or at the form below.
Contact us here for a fast response
Office
Your Office Anywhere, 4 Dominion Court, Billington Road, Burnley, BB11 5UB
Hours (Sales)
M-F: 9am - 5pm
S-S: Closed