Everyone is becoming familiar with the idea of "The Cloud" and, as more and more applications become available online, many businesses are taking a "cloud first" approach when looking at business software.
If you've developed an application in Microsoft Access, whether as a professional developer to sell commercially or for your own business, the question you need to ask is how do I move my Access database to the cloud.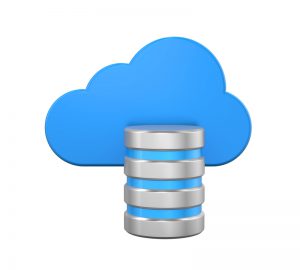 A quick internet search on "move Access database to the cloud" may guide you to a page on Microsoft's website aboutsharing Access databases. In the past Microsoft would have suggested using an Office 365 hosted SharePoint site to hold the data but interestingly Microsoft no longer recommends using SharePoint, and this is hardly surprising. Access performs best when the application has a fast and reliable connection to its data and this is unlikely to be the case with data hosted at the other end of the Internet in SharePoint online.
Getting the best performance out of Access In the Cloud
Fastest
Think about Access running on your local PC. Here the forms and queries are in the same place as the tables, likely on your C: drive, so performance is usually spot on.
Fast
The next layer is when Access in the cloud is running on your corporate network. Often each user has a front end executable file with the forms, queries and reports, connecting to a back end database, containing the data tables, on a shared network drive. This approach will work well, but will be slightly slower compared with running locally.
Slower
You could in theory run Access in the cloud across a Wide Area Network but unless you're on a 100mbps or higher (ideally gigabit) leased line between the application and the data, you will find performance probably close to being unacceptable.
Slowest
So imagine trying to connect an Access application to its database that's somewhere out on the internet such as SharePoint on Office 365, every developer I've spoken to that's tried this has given up on it.
Access in the cloud on hosted SQL Server
Another option to move Access database to the cloud you will hear mentioned is connecting the local Access application to a hosted SQL database. Like the SharePoint method mentioned above, you still have a disconnect between the application and its data, so unless your business has an incredibly fast internet connection there is still likely to be a hit on performance.
Access on Remote Desktop Services
Fastest
The most reliable method to move your Access database to the cloud is to use a hosted remote desktop services.  Previously called Terminal Services, this functionality was designed for situations where users need to share applications from multiple or remote locations without requiring a particularly fast internet or network connection.
With remote desktop services the Access application (The Front End) is in the same place as the database (The back end), probably on the same computer and usually on the same drive. So this is just like running on your local PC when it comes to performance.
The user connects to the application over the Internet and as the only thing travelling over the network are the keyboard presses and mouse clicks the Internet is no bottleneck to performance. I don't care how fast you can type it won't be as fast as your internet connection, even if you're on a dial up modem. The only data coming back down the internet are the screen refreshes, and generally screen changes are tiny.
Another great advantage of using hosted remote desktop services to move your Access database to the cloud is that you don't need to make any design or code changes, unlike the other methods described above. It is a good idea to split the database, but this is something you should do anyway if sharing it, even on a local network, and splitting the database is usually a 2-minute job using the Access Database Splitter wizard.
Other Benefits of moving Access database to the cloud using hosted remote desktop services
Businesses like cloud based applications because they don't need to worry about anything, they just pay the subscriptions and let the provider look after the rest.  They don't need to worry about backups, or Anti-Virus (except on their local PCs), or support, or updates, or licences, or upgrades.  Moving Access to the cloud using a hosted remote desktop service is exactly the same.  The provider looks after everything leaving you to use your application.
Making changes to your database is also easy, you just release a new front-end and save it on the server and everyone gets it.  No more visiting each PC to deploy a new version.
Connecting to a remote desktop service just needs a small bit of software, a remote desktop client, which is built in to Windows, so it's very quick and easy to rollout to users. There are also clients for Apple Mac, iPad and Android devices so you're not restricted as to what computers can run your application.
Find out more
Clearly the best way of finding out if hosted desktops are the best way to move Access database to the cloud is to try it out. At Your Office Anywhere we can provide demo accounts so you can see the system in action for yourself as well as test servers if you wanted to try your own specific application out before making a decision.
To find out more about MS Access in the cloud, get in touch today by calling 01282 500318 emailing sales@yourofficeanywhere.co.uk or leave a message on our contact page