Microsoft has added Access databases to its small business Office 365 plans, why is this good news, and why doesn't it really matter.
Microsoft announced that they have added Access to the Office 365 plans aimed at small businesses.   It is now included in the plans for Business and Business Premium.
For small businesses Microsoft Access is a great tool for creating bespoke database applications; from simple databases created by novices to complex and highly functional applications built by experienced developers, and often targeted at – or custom built for – small businesses.
So you would think that adding Access to the Office 365 Business and Business Premium plans can only be good news.  Well, it's certainly not bad news; it's an additional application at presumably no additional cost, so must be a positive step.   I wonder though, in these days of cloud computing, how are small businesses going to effectively use Access in Office 365, and what is the best way of sharing the database between multiple users?
Local Server
This is I guess the traditional way of sharing an Access database; split the database, put the backend on a local file server and front end applications using Runtime on each user's PC.   OK so the addition of Access to Office 365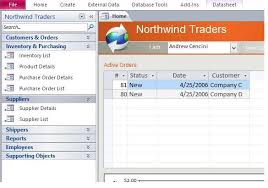 Business and Business Premium will be a slight cost saving, but only for the one person in the organisation who develops or maintains the application.   Access Runtime is free, so all the other users don't need Access on the desktops.   If the database is developed and maintained by a third party then no one in the organisation needs an Access licence in their O365 plan.   Local servers are so "last year" for small businesses, unless there is an existing need for local infrastructure, buying a server just to host Access seems a costly way to go.  Many small businesses are now fully switched on to cloud computing.
Access Web Apps
New in Access 2013 was the functionality to build an Access database and use either a SharePoint server or an Office 365 site to publish the application as a browser based "App".   This is a great step forward and allows Access to truly utilise the Office 365 and Microsoft Cloud environment.  You can make the application available to anyone inside or outside your organisation from any location and on different devices.   This is a great way for small businesses to share Access databases.   Anyone with permissions can view and edit data even if they don't have Access, which brings me back to my original point, having Access added to your Office 365 plan isn't going to make any difference except for the one user who has developed the application.
It is worth pointing out also that Access Web Apps are limited in their functionality compared with normal Access databases.  You can't use Visual Basic code for example.   Speaking with an Access developer I know his applications have 1000's of lines of VB code so this just isn't an option for his customers.   If your database has been developed by a professional developer I can almost guarantee they will have used VB within the application so it can't be converted to use Web Apps.  You are also limited to what external data sources you can connect to.
So Access Web Apps can be a great way of building and sharing simple databases and making them available over the web, but may not be suitable for anything complex.
Access as a hosted "RemoteApp" using Windows Remote Desktop Services (Terminal Services)
Terminal Services, now known as Remote Desktop Services, has been around a long time but in more recent years the increase in Internet Bandwidth and the advent of virtual servers has enabled skilled IT companies to provide hosted remote desktop services to small businesses.   A hosted remote desktop server is usually part of a multi-tenanted public cloud service which uses economies of scale to very cheaply replace all the local servers businesses had on premise with equivalents in the cloud.  This service is often called Hosted Desktop and is considered a form of Desktop as a Service (DaaS) or VDI (Virtual Desktop Infrastructure).
Running Access as an application on a hosted desktop, or just as a RemoteApp enables businesses to share the Access database with all their users and allow them to run it from anywhere over the Internet and like the Web Apps it can also be used on any device.   However, unlike Access Web Apps this can use the full desktop or Runtime version of Access so taking advantage of any custom VB code the developer has used.   Most developers will split the Access application into back-end database and front-end applications that use Access Runtime which is a free licence, which is fortunate as Microsoft don't allow you to activate Office 365 Business or Business Premium on a remote desktop server.  So even with this method you still don't need Access on your Office 365 plan.
So how would companies with Office 365 Business or Business Premium really benefit from Access on their plan?
Don't get me wrong, for many companies this will be good news.   If their Access databases are not shared, if they have local servers, or if they have very simple requirements where Access web apps will suffice then great.  But it's a bit half cloud, half not cloud.  To really benefit from Access in the cloud you need to be looking either at hosted desktop service or maintaining your own cloud infrastructure in Azure, Amazon Web Services or similar.
Contact us today
To discuss your requirements for Microsoft Access online as a cloud based application contact one of our technical sales consultants via our contact page.
Visit different areas of our Info Hub to learn more
Microsoft Office 365 Hosting
About 'Your Office Anywhere'
All about Cloud Computing
Hosted Desktops Apple/Android
Contact us here for a fast response
Office
Your Office Anywhere, 4 Dominion Court, Billington Road, Burnley, BB11 5UB
Hours (Sales)
M-F: 9am - 5pm
S-S: Closed