Came across a strange issue today whilst deploying the SCCM 2012 client to some of our legacy systems and hosted applications that we support on our managed cloud platform. Having successfully deployed the client to Windows 2008 R2 servers without any real issues I had high hopes for Windows 2008 SP1 and Windows XP. The client deployed to both systems without issue and they appeared in SCCM. However when I logged onto both systems I was presented with APPCRASH notifications on both systems for SCCLIENT.EXE and SCNOTIFICATION.EXE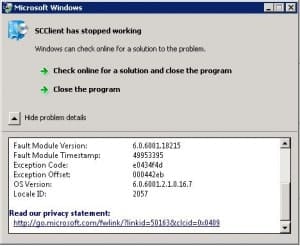 Looking through the event logs on the Windows XP client revealed a number of .NET Runtime 4.0 Errors the one that got my immediate attention was Event ID 1026 – System.IO.FileNotFoundException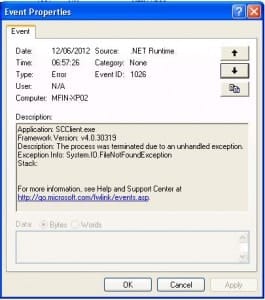 One of the things the SCCM 2012 client push process does is to install .NET 4 onto the client and whilst this appears to have completed something was obviously amiss. In a bid to confirm my suspicions I moved onto the Windows 2008 SP1 server to check the event log for the same errors. Unfortunatley I was unable to match them and the only sign that something was wrong with the installation was the following selection of errors in the Application log.
Event ID 11704 – Product: Configuration Manage Client — Error 1704. An installation for Microsoft .NET Framework Client Profile is currently suspended. You must undo the changes made by that installation to continue.
Event ID 1024 – Unable to open shim database version registry key – V4.0.30319.00000
Event ID 1101 – .NET Runtime Optimization Service – Failed to compile: C:WindowsCCMSCNotification.exe.config. Error Code = 0x8007000b
The solution to the problem on both servers was to download and run the .NET 4 standalone installer from Microsoft. Once the installation had finished I was able to open the Software Center (SCCLIENT.EXE) without any issues.
If you stumble accross this page looking for reasons why the client wont install on Windows 2003 after finding 0x80004005 errors in the CCMSETUP.LOG then take a look at the following article https://itbl0b.blogspot.co.uk/2011/11/ccmsetup-failed-with-error-code.html 
As well as providing cloud computing solutions we also provide consultancy services gained from real world experience especially in the Microsoft System Centre products – SCVMM, SCCM and DPM. We also provide consultancy on leveraging the best out of Hyper-V on ISCSI storage solutions. Our capabilities are proven for both in-house and cloud based deployments.  If you would like more information on our capabilities please contact the office to discuss this.
Paul Monaghan
Other Articles:
> Using iPad or Android Tablet to Connect to a Windows Remote Desktop